GET ON THE BLOWBACK EMAIL LIST:
(News, Shows, Releases, and such)



Digital Drug War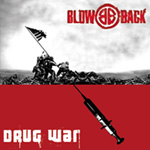 We have finally made the Drug War 7" available in the form music was born for, the MP3. Throw out that rusty turntable and download some BLOWBACK at the following digital music hubs:
-
Lala
-
Amazon MP3
-
iTunes
(Apple fascist scum)

Take over the Blowback website!
We just put all of the song lyrics in a new section of the site -- now not only can you read them but write your comments on each song page and say what you think. We will probably regret this later -- but have at it. The new lyrics page is
HERE
!

The Reviews are In
Some new reviews -- Drug War from
Punk and Destroy
from Japan and
Ciutat Podrida
from Spain. Let us know if you want to try translating...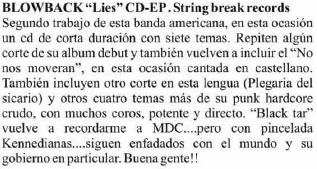 Chalmers Johnson on blowback
Here's a video you should check out:
Chalmers Johnson, author of Blowback, Sorrows of Empire and Nemesis: The Last Days of the American Republic , talks about the U.S. 'military-petroleum complex,' the overextension of the American military, nuclear proliferation, and the decline of Washington's credibility abroad. ...


Drug War 7" out this week!!
Finally! The new record is here!
We just posted the first track DRUG WAR on our (*cough*)
MySpace page
. Check it out and let us know what you think.
These are the songs we recorded with Don Zientara at Inner Ear Studios, the place is like a museum of DC punk history and he's done so many amazing records (Fugazi, Minor Threat, etc.) -- hopefully some of it rubbed off.
Track listing:
Drug War
Bible Belt
The Shift
Vamos Juntos
AMP Magazine
already said this:
"The Drug War EP is great. Love the title track. Sounds like a long lost, amazing DOA song!"
You can get it at the following places:
and possibly your local music store.


Colombian Army building base on Kofán Lands
We want you all to know about an issue very close to us. The Colombian Army is building a military base on land occupied by the indigenous Kofán people. Construction has begun that is both in violational of national and international law, violating ancestral land, and endangering the local ecosystem and the well being of the Kofán people.
Read the press release issued today
. More information to come.


Updates on the Drug War
(the policy, that is, not our song about it...)
Curious how government efforts to eradacite drug use are going? Take a look at the new
DRUG WAR weblog
where we're posting updates and commentary. Talk back and let us know what you think!


Track List for DRUG WAR
The new record is almost ready! It is will be called
DRUG WAR
, with 4 new songs recorded with Don Zientara at Inner Ear Studios in Arlington, VA. The track list is:
Drug War
Bible Belt
The Shift
Vamos Juntos
This will be a 7" release. The artwork was done by Rob Hanna of Aborted Society and looks great. We'll post the cover and an MP3 in the next couple of weeks..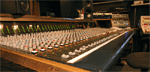 In the Studio
New BLOWBACK music is coming soon! We will be recording at
Inner Ear Studios
in DC with Don Zientara
(Fugazi, Minor Threat)
, and can't wait to be in the studio with a guy who has recorded more great albums than any of us can count.
Also, we have a
new posting
from our good friend and political pundit Sam Smith. It's actually an old one that reads like it was written yesterday. We're caught in a time warp.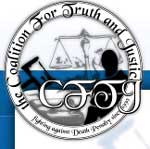 Save Kenneth Foster
Word has come to us from the ever-disturbing world of state-sponsored murder, whose main cuplrit continues to be the State of Texas. In this case, a person who was driving a get-away car who did not intend to be party to a murder is facing imminent execution, wth the prosecutor invoking the ever-hysterical trigger point of 9/11 to ensure another state-sponsored murder.
If you are a Texan, please consider making an urgent appeal THIS WEEK to your state legislator and governor. If you are not a Texan, please consider calling the governor's office.
MORE DETAILS

We Shall Not Be Moved
Thanks to Alan and Anna Shockley for sending over a video of protest in action.
From Alan: "Nine people were arrested at the Supreme Court practicing their first amendment rights (protesting the death penalty). I edited the video to
No Nos Moveran
."
From Anna: "Our purpose, collectively, was to call attention to the fact that our government is killing people in our names and that we do not wish to be accomplices to state sanctioned murder, and also to exercise our first amendment right to petition the government for a redress of our grievance."
To get the full story, go to the
Charleston Peace
site and the
Abolitionist Action
site.


Sam Smith is at it again.
Click here
and find his latest call and proposal to "bring America back to life, back to its constitution, back to its ideals, back to sanity and back to reasons for enthusiasm and pride in being an American." We can promise you that you will not be bored.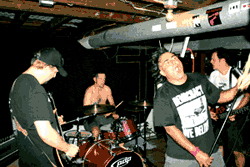 photo Christina Hersey
Thanks!!!
Thanks to EVERYONE we met in the Pacific Northwest! Please sign up for the email list so we can keep in touch -- new music and more shows should be coming soon. Super thanks to Brian & Funhouse, CLR, Eight Hour Disease, Kyle Nixon, The Ignorant, Damien, John, PC-PDX and Brainstains, Arya & KPSU, The Taxpayers, and everyone else! Also thanks to Christina and Matt for the great pics! All coming on the website soon.
Also:
- Please try to watch
HELL: Our Fear and Fascination
, a segment that will air on ABC's 20/20 program this FRIDAY JULY 13th at 10pm. As part of addressing the concept of Hell 20/20 will talk with torture survivors including Sister Dianna,founder of TAASC (Torture Abolition and Survivors Support Coalition International) in Washington, D.C.
- If you missed listening to BLOWBACK live on KPSU last week, the whole thing is posted in their archives for the next few weeks at
http://archive.kpsu.org:8080/node/5917
. Our favorite part: the disclaimer voiceover when we played SMF --"The opinions expressed... do not necessarily reflect those of Portland Public School, Portland State University, KPSU or the participating sponsors."